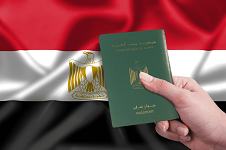 Egypt Citizenship by investment 
Egypt Citizenship through investment is considered as one of the vital practice areas at ALZAYAT Law Firm.

Any foreign tourist who loves to come to Egypt or any investor interested in Investment in Egypt, there is a golden opportunity that must be exploited!

---
Egypt Citizenship law
Egypt Citizenship by investment law has issued by the Egyptian Cabinet No. 140 of 2019 to amend the Egyptian nationality Law No. 26 of 1975, after the modification any foreigner can obtain Egyptian Nationality if he met any one of the following conditions.

---
Egypt Citizenship

by investment

options  
1) Purchasing a property from the state with a minimum of 500,000 USD to be transferred from abroad.

2) Establishing an investment project with a minimum of one million dollars or participate in an investment project for not less than 400,00 USD and with a participation rate of not less than 40% of the project's capital.

3) Depositing an amount of one million USD for three years under a bank transfer from abroad in a special account at the Central Bank of Egypt, as a refundable deposit.

4) Depositing an amount of 750 thousand USD for 5 years under a bank transfer from abroad in a special account at the Central Bank of Egypt, as a refundable deposit.

(5) Depositing an amount of 250 thousand USD under a bank transfer from abroad as direct revenues (grant) that devolves to the state treasury, and it is not refunded.

---
Egypt Citizenship process 
The way of facilitating the process, the Egyptian Cabinet also approved the establishment of a unit to check applications for Egyptian nationality.

Additionally, you are free to choose any way for the above-mentioned conditions that will suits you more.

Accordingly, if your positions comply with one of the said conditions, without any doubt you will get your Egyptian Citizenship!

Our Nationality and Immigration team can provide you with full assistance starting from phase one until you get your citizenship.

Let's exploit this opportunity together!

---

alzayat international law firm is one of the few major law firms with a sophisticated worldwide Private Clients practice. Our unparalleled global resources allow us to provide one-stop, comprehensive service to meet all of our clients' needs, wherever in the world their assets or family members may be. They also make us uniquely qualified to handle complex, multijurisdictional disputes, that is why our clients have selected us to handle some of the largest cases in this field, Our specialist W are ranked in  The Legal 500  , hg.org  and  Global Law Expert  as best experts in this field.For any legal inquiries, please do not hesitate to contact us.